about Stretch Arts Festival Mandurah
Celebrating Mandurah's harvest of unique arts and cultural achievements to celebrate, share and inspire festival goers with unique and diverse art and cultural activities.
Throughout the two day festival, participants experience and enjoy performance, dance, music, visual arts, theatre and outdoor activities with events being delivered by renown and upcoming local , Australian and international companies and artists.
Role: Artistic Programmer (2007 & 2008 Festivals)
I was engaged in 2007 & 2008 as the festival's artistic programmer. I managed over 180 individuals: artists, community workshops and participants who were members of over 20 affiliated projects as part of the City's annual festival program. The role required working with colleagues across various City of Mandurah departments including landscaping, community development, libraries, parks and gardens, rangers, museum and others to connect these networks to fulfill project requirements. I successfully worked across art forms - visual arts, contemporary music, writing, dance and circus - to design projects and adjust concepts to match need and ability.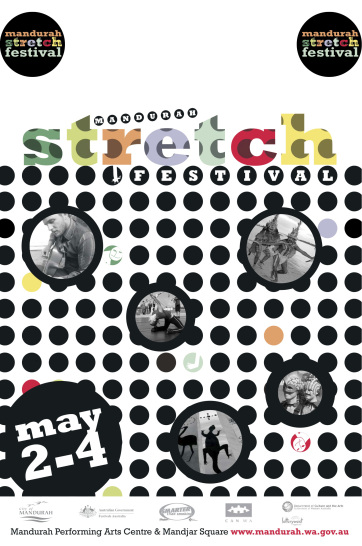 - Identified potential artists and arts workers within the local area and negotiated creative projects for development.
- Engaged new sponsorship opportunities and drafted funding applications to state and federal departments.
- Managed the re-branding and development of the festival marketing strategy resulting in a 60% increase in attendance.
- Liaised with the City's arts & cultural development officers and events management team to design and implement an annual four day arts and cultural festival.
- Curated and supported a diverse range of visual arts and performance projects presented as part of the festival.
- Mentored artists, community workers and participants to ensure projects were successfully achieved on time and within budget.
- Programmed activities and entertainment over the festival weekend.
- Budget management including allocating and distributing funds to cover infrastructure, audio visual equipment, artist fees, security, entertainment and catering cost.
- Submitted budget reports and updates to the City's Community Services CEO & Director.
- Ensured compliance with all funding and sponsorship agreements.
- Post event analysis and reporting; including completion of grant acquittals and financial reports.